What's new? We have added a new financial report in the system called Supplier payment rules. If you have contractual due dates and percentage or fixed amounts divided by those days, this report helps you to follow exact amount of debt and due date for each confirmed reservation with that supplier.
Benefits? You can easily follow your supplier obligations for each due date. For example, if you have to pay 50% 5 days after booking, 20% 4 days before the trip and 30% 3 days after check-in, you will use Supplier payment rules to check when and how much you have to pay. The same is for fixed amounts, such as 300 euros after booking and similar. This report not only helps with tracking obligations, but also gives the possibility to add supplier invoices directly from there. If you do so, the supplier invoice will have exact amount and due date as shown on the report.
How? Edit one supplier from the list of suppliers and choose Supplier payment rules tab. Add new payment rules by using Add button and choose Value type between amount percentage and amount.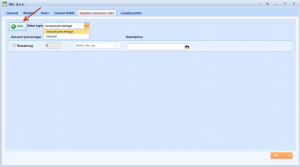 For this example, we have used amount percentage. There is also Remaining row which represents the date of the rest amount to be paid to supplier.
NOTE: If the date of the remaining amount is set before other rules it has priority. For example, if you need to pay 40 % 10 days after booking and remaining amount 7 days before the trip, you will have to pay 100% 7 days before the trip if this date comes first.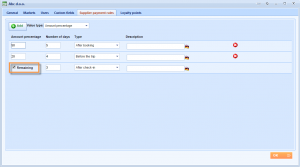 Make one reservation with product from this supplier. If you already have reservations, you can skip this step.
HINT: Supplier invoices can be entered only for confirmed reservations.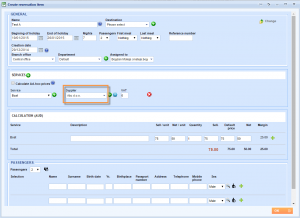 Choose Reports → Financial → Supplier payment rules from the main menu. You will get the list of debts and due dates for all suppliers that have defined supplier payment rules. Filter supplier and reservations of interest.

NOTE: You can find Currency filter above the grid of Supplier payment rules report. In case that you have defined currency of a supplier while editing supplier in General tab, you will find this supplier here only under the some currency.
Your debts are ordered chronologically in this report. Choose Create icon and add supplier invoice from here.

Notice that due date and amount fields are filled with data.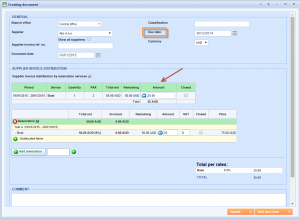 Let us add higher amount than expected, close the supplier invoice and click Save and close button to save the changes.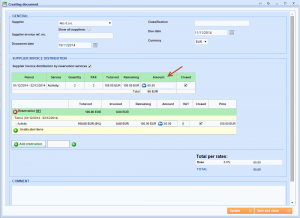 Click Filter button to get new results. Notice that no matter on which due date you add the supplier, amount in the Invoiced by supplier column will always be chronologically distributed.

Add a payment for this supplier invoice by choosing Documents → Supplier invoices from the main menu.

Click OK button to save the changes.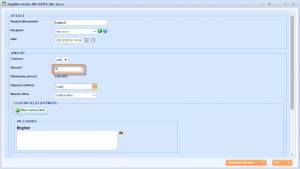 Go back to Supplier payment rules report and find Paid amount column. Again, the amounts have changed chronologically.

HINT: Export page to Excel or Word.
NOTE: For enabling this report in your system, please contact us at sales@lemax.net.