What's new? We have created a new tab on the Reservation window, showing you additional information about the reservation, mostly financial.
Benefits? From now on, you can track financial reports at the level of the reservation, based on every service which affects reservation calculation.
How? Locate Reservation report tab in the Reservation details window. You can find here some basic data about the Reservation details as reservation number, period, destination, customer, etc.
In the grid you can find each service which is booked under this reservation number, along with all the supplements, discounts and valid special offers calculated on the services. There are financial reports about prices for each service. You can choose currency of the report preview from the Currency drop down list.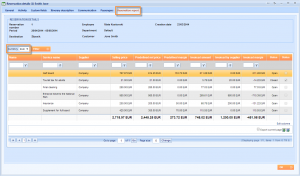 By default, you can find various information as following:
Selling price – price from the price list
Predefined net price – net price from the price list
Predefined margin = selling price – predefined net price
Invoiced amount – amount from taken from the customer invoice
Invoiced by supplier – amount so far invoiced by supplier for this service
Invoiced margin = invoiced amount – invoiced by supplier
Status – indicates whether you are expecting further supplier invoices for the item, or you have closed it.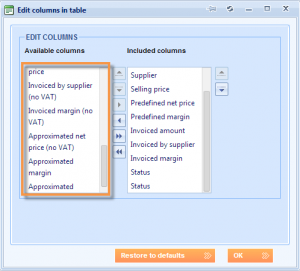 If you want to include more information columns for the Reservation report, you can add them with Edit columns option below the grid. For example, you can include the following:
Approximated net price – if the reservation item is not closed this is taken from the net price on the price list. If the reservation item is closed this is taken from the Invoiced by supplier
Approximated margin = Invoiced price – Approximated net price