What's new? We have removed Fixed expenses for children amount text box from Advanced tours that could be found in price list. This expense was applicable only to children with 100% of discount on the accommodation.
Benefits? Before, fixed expense could be changed in two places, and now, because of simplification and more intuitive usage we have enabled this change to be adjusted in one place – when entering Discounts and special offers icon in Price list tab on the Advanced tour.
How? Choose Tours → Advanced tour in the main menu. After getting the list of advanced tours, pick one and click on Edit button.
Let us see where removed button was appearing. Move from General tab to Price list tab and find amount text box Fixed expenses for children above the price list grid. This amount box was showing how much children need to pay for all the expenses that were not hotel. You could changed it from here as well as from Discounts and special offers tab. If changing fixed expense from here, it was applied only to children that were having 100 % of discount on the hotel.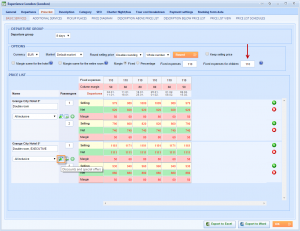 This is how it worked before, notice that fixed expense amount text box doesn't appear anymore above the grid. Now you have an option of changing fixed expenses only in one place – when entering icon Discounts and special offers. Let us enter there.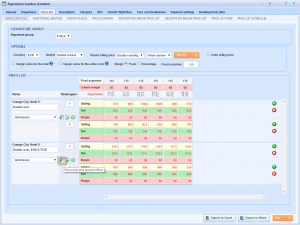 Find a Discount for a child in the grid. If you want to adjust fixed expenses for children according to given discount, simply change selling prices.
When doing this, net price from the hotel remains the same but fixed expense has been changed. How this fixed expense will be distributed among the services included in fixed expense? The answer is – proportionally. Switch from Price list to Departures tab and choose Edit button. Move on to Fixed expenses tab. If changing fixed expense for children and lowering price for 10%, this is how it will be distributed -10% on Transfers and -10% on Massage from our example.