What's new
We've implemented a new way of extracting financial data from Lemax. Besides previewing all your data in back-office grids, direct accounting integrations, and extracting XML data from the system, now there is a possibility to extract the data by exporting it to Excel.
Problem being solved
Lemax users had no way to preview and manage their financial data in a user-friendly format in one place.
Benefit for the users
additional way of managing your financial data
ability to do preview more data than in Lemax back office, in a structured Excel format
ability to further manage the exported data (create pivot tables, create Excel reports, create CSV files from Excel)
ability to transform the exported Excel data into a format suitable to be imported into an accounting system thus reducing the need to manually retype the data
How it works
Navigate to Document export and define the financial data you want to export by:
time period
financial document type
currency
and choose to Export to Excel.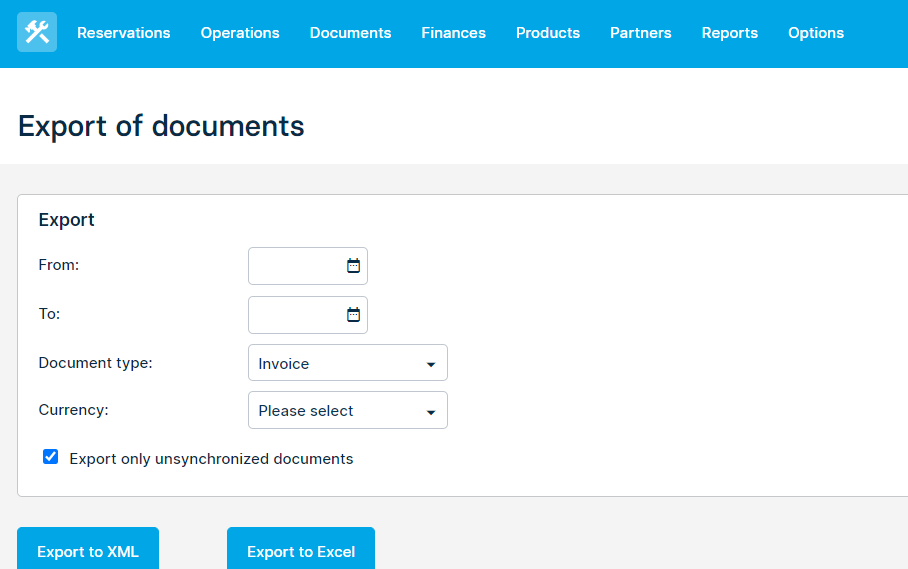 For example, you can select only invoices from the last month, today's transactions, or supplier invoices from the last week.
Your payments and financial documents will be split to separate tabs. Payments tab contains all transactions made. Each line is one transaction and contains:
transaction currency and amount
date of the transaction and payment method ID
payer information
reservation number
Documents tab contains the financial documents you selected to export (like invoices or canceled invoices, supplier invoices, advanced payment invoices, and their cancellations). Each financial document can span across multiple lines since one line is actually a service that is invoiced. Each line contains at least:
document number and type
creation date and the user who created it
item cost, selling price, tax amount
service name
reservation number
customer/supplier information