The purpose of this document is to provide you with a comprehensive and easy to understand overview of the different ways you can integrate Lemax Software into your existing website. Choosing the integration method is the first decision you have to make, and the most important one, because everything else that comes later depends on it, so we recommend you read this document thoroughly.
Introduction
If you are reading this document, it means you have opted to integrate Lemax Software into your existing website rather than create a brand new web on top of our software. That's great, it means your current website must be doing something right and is worth keeping. There are several ways you can integrate – using:
Predefined API calls with templates
The choice of method has a profound impact on all aspects of integration, such as:
Time investment
The time necessary to integrate varies from 1 day to 30+ days. The more complex the method you choose and the more customization you want, the longer it will take. Some methods allow you to integrate in a couple of hours, with some additional time required to customize the appearance, but sacrifice a lot of functionalities and customization control. Others can take up to a month, or even more, but in exchange give you full control of both functionality and look of every aspect of integration. In any case, some time will be required and it cannot happen instantaneously.
Financial investment and knowledge necessary
While some methods can be used even if you only have one web designer, others will require a few developers. And the approach that requires more developers is the one that usually last longer, so the difference in price of development time can be substantial. Also, while some methods can be successfully executed with some knowledge of XSLT and CSS, others, like API integration, require experienced and skilled developers.
Customization options and changes to your website
As mentioned before, customization options vary widely, from simple appearance tweaking to full functional and design control. The more control over customization you have, the more seamlessly you can integrate the booking engine into your website and make it look like a native part of the web. But, as also previously mentioned, the more control you want, the more time and developers it will take.
Given the broad impact of the choice, it is very important to choose the approach that best suits your particular goals and needs. In the following chapters, a table comparing their various aspects is provided and each approach is described in detail.
Comparison of characteristics
| | | | | | |
| --- | --- | --- | --- | --- | --- |
| | iFrames | WordPress plugin | Book button | API calls | API calls with predefined templates |
| Search | + | + | – | + | + |
| Advanced search by attributes | – | – | – | + | – |
| Search results | + | + | – | + | + |
| Detailed view | + | + | – | + | + |
| Pricelists | + | + | – | + | + |
| Shopping cart | – | – | + | + | – |
| Custom built B2C portal | – | – | – | + | – |
| Custom built B2B portal | – | – | – | + | – |
| Data counts for SEO | – | + | + | + | + |
| Simplicity | simple | simple | simple | complex | intermediate |
| Time required | short | short | shortest | longest | medium |
| Customization options | limited | limited | limited | full | extensive |
| Customizable booking form | – | – | – | + | – |
| Multiple webs | + | + | + | + | + |
| Integration with GDS | + | + | – | + | + |
| Integration with payment providers | + | + | + | + | + |
| Platform specific | – | + | – | – | + |
iFrames integration
Description
You can implement the most commonly used controls on a travel website with iFrames. These include search box, search results in a list view, detailed view of travel products, price calculation and booking form.
We provide you with HTML code that makes up the iFrames which you simply insert into your web pages, and the whole booking process takes place inside the iFrames defined by that code. Think of iFrames as our web pages embedded inside your web pages.
The following picture illustrates how it approximately looks: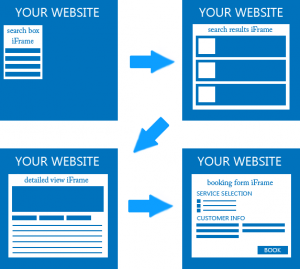 Using travel product search box leads to a list view of search results. There, users can click on a particular product on the list to view more information, which leads them to detailed view. From there, they can proceed to booking the product, which leads them to the booking form. The iFrames display the products and information that you have entered into Lemax back office.
Although they are on your website, users clicking on iFrame controls in fact interact with web pages stored on our servers.
Pros
Easy to implement, integration can be done in under 1 day and no programming required
Simply insert the HTML code into your website, and controls are ready to use
Available regardless of your website's technology or content management system (CMS)
Cons
Limited design customization by editing CSS files
Data inside iFrames doesn't count for SEO
WordPress plugin integration
Description
This is similar to the iFrame integration, but instead of iFrame's HTML code, we provide you with a WordPress plugin and detailed manual on how to install it. You install it in your WordPress admin panel, and once installed, it allows you to insert various widgets into your page. These widgets have the same functionality as the previously described iFrames, i.e. you can use search box widget, search results list widget, detailed view widget and booking form widget, and much like with HTML code for iFrames, you get a short, one-line code for each widget which you insert into desired places on your website.
Widgets also display travel products and information that you have entered into Lemax back office, but users clicking on them interact only with controls stored on your server.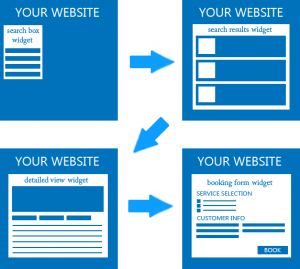 Pros
Data inside widgets counts for SEO
Installation of plugin and insertion of widgets takes less than an hour
Cons
Available only if your CMS is WordPress
Limited design customization by editing XSLT files
XSLT more complex than CSS
Book button integration
Description
This approach can be taken into consideration if you already have implemented a search engine, search results and detailed view of products within your website, but lack a booking step. You already maintain detailed information of your products on your web through your content management system and don't want to enter it into Lemax back office again. This is solved by adding a simple booking button to your detailed view of a product, which redirects to Lemax's online booking form or inserts it into an iFrame on your website.
Click here to read the full guide.

Pros
Quickest form of integration
Minimum amount of changes to your website
Available regardless of your website's technology or CMS
Cons
Limited design customization options for booking form by editing CSS files
API integration
Description
This is the most complex and time consuming form of integration, but it offers complete control over both functionality and appearance customization. Unlike with previous approaches, we don't give you a piece of code which you insert into your website. Instead, we provide you with access to our API services and documentation on how to use them in case you have your own developers, or, using our API, we completely custom design every aspect of integration according to your specification.
Do note that, in case you have your own developers or are hiring a third party development team to do the integration, this approach requires skilled and experienced developers, because everything needs to be custom programmed and designed for you from scratch. Through API, we provide you with access to all the information in the back office, and it is up to your team to extract, organize and display that information in any way you like. You don't use pre-built controls and then customize them, you build your own custom controls. You can find an API developer guide here.
Also, this is the only approach that allows you to build custom B2B and B2C portals.
There's no illustrative picture here, with API integration you can make any kind of control you want.
Pros
Available regardless of your website's technology or CMS
Offers full functionality and appearance customization control
Cons
Extra development time needed from both your designers and developers
Can take up to a month, or possibly even more
Developers need to know what they're doing, this form of integration is not trivial
Predefined API calls with templates integration
Description
The middle road between easy, but limited approaches and time consuming API integration is using API calls with templates for controls. Instead of writing your own API calls to our API services and designing your own controls from scratch, we provide you with ready-to-use code for API calls needed to make basic controls (search box, list results, detailed view and booking form control). Those calls are used to extract data from back office and display it in those controls using predefined templates.
Customization is allowed by editing template's XSLT and CSS files, and customization options are much more extensive than with iFrames or WordPress plugin widgets, although the controls offer the same functionality.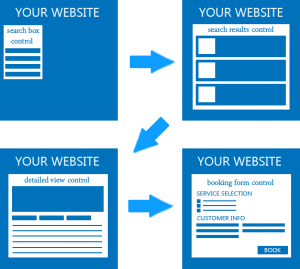 Pros
Although more time consuming than iFrames or plugin, much less time costly than API
Can be done in a week
Extensive design customization options
No programming required, you simply insert provided code and customize appearance
Cons
Available only in PHP and ASP.NET
Full design customization requires knowledge of XSLT