Through this guide you will learn how to enter percentage special offer and connect it with products that are already in the system.  The percentage special offer is applied to basic services, discounts and supplements and reductions. The perfect example of percentage offer is 7=6 nights, early booking discount or late booking discount.
Prerequisites
For the Special Offer entering you should already have at least one item in the system. It can be Accommodation, Transfer, Activity or Simple tour. FIT tour, Advanced tour and Group can not be connected with the special offer, only their components can have special offers.
Creating a percentage special offer
First step is to choose Special offers from the main menu.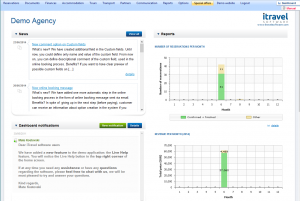 The Special Offer grid has open, where you can choose whether you want to add percentage or fixed special offer. To add percentage special offer, choose 

Insert percentage button above the grid with special offers.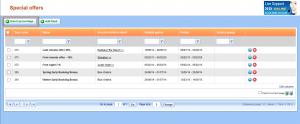 The Special Offers window has opened. Use this window to add general information about the special offer you are creating. First, enter the name of the special offer.
Note: Enter this name in all languages. This name will be displayed in all your travel documents and on your website.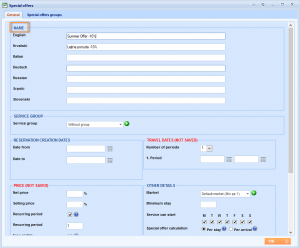 Fill in other parameters:
Reservation creation dates is the period that defines when the reservation should be made to trigger the special offer.
Travel dates is the period that defines which travel periods should trigger the special offer.
Net price is a percentage received as a discount from your supplier.
Selling price is a percentage that you wish to apply to the service.
Days before travel define how many days before the trip reservation should be created to active the special offer.
You need to click OK to save the special offer.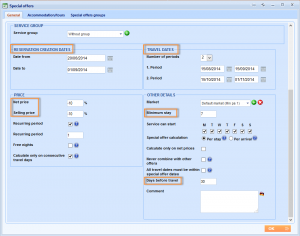 The next step is to connect accommodation units or tours with the special offer. You need to enter Accommodation/Tours tab and choose

Select existing button.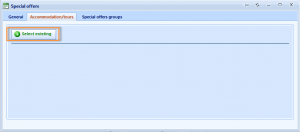 The Travel product search window has appear and you can select parameters in the Search parameter field and click Search.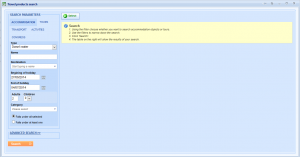 Search results will appear on the right side of a window. You can select wanted product by checking the check box in the first column of the grid and clicking the 

Select button above the grid.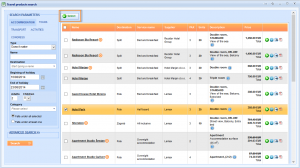 The special offer is now fully defined.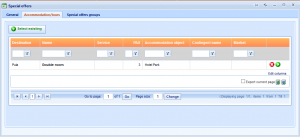 Let us search this unit through new reservation.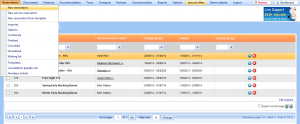 You can notice that in the search window all units that have special offer appear with the  

Special offer mark next to the name in the first column. In the price column you can notice two prices; the old one which is crossed and the new with the special offer is applied.